An outdoors living room is an excellent way for any Texas resident to spend their time outside and soaking in the sunshine. Well-designed outdoor living areas are also a great way to add value to your home. Not only do they look appealing, but they also make the home feel larger by adding that extra living space. Take advantage of these tips to enhance your outdoor living space:
Choose a Style for Your Outdoor Living Areas
When putting together a living space, we often place a bunch of stuff that we like in one area without really thinking about how well they all go together. This can lead to the room looking disjointed and out of place. It is essential for you to like all of the design elements in a room, but following the guidelines for a specific style also helps you create a cohesive look for your space.
As an example, Mediterranean-style homes are quite popular in Dallas. If you're in that area, you may want to consider going with a Mediterranean look for your outdoor living area. Of course, if that's not the kind of style you like, there are plenty of different styles you can choose from.
Install a Customized Wrought Iron Door
No matter what style you want for your outdoor living space, having a wrought iron door connecting that space to your home is an excellent choice. Wrought iron doors have a timeless aesthetic to them, and they can come in all sorts of sizes and styles made to fit any home. On top of that, they provide plenty of benefits for your home, including being durable and secure.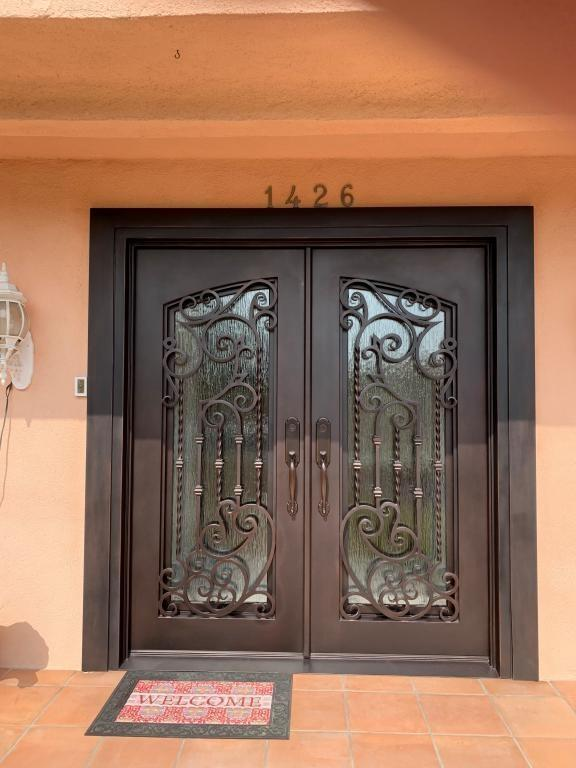 Bighorn Iron Doors creates high-quality wrought iron doors. We even offer the opportunity for you to order a customized door of your own so you can be sure it fits your style and preferences. Contact our team to learn more about our products and how you can order one for yourself!
Get More Greenery
One of the best aspects of an outdoor living room is the connection to nature. Take advantage of this by having a garden surrounding your living space! Not only will this be beautiful to look at, but it will make the entire area smell wonderful as well. Taking the time to maintain your garden is also a great way to spend more of your time outside.
If you don't have space in your yard for a full garden, just having some extra potted plants in your living space can help make the place feel cozier and connected to nature.
Place More Furniture
Getting together with friends and family is one of the best ways to make use of your outdoor living space. However, to do this, you need to ensure you have enough furniture for everyone. Too often, there's just a single bench or spare chair sitting in outdoor living rooms, making them impossible to use for get-togethers.
DIY furniture is a fantastic way to spruce up your living area if you're on a budget. Depending on what you have lying around, this can be a relatively quick and easy project. You can even turn a couple of old doors into a rustic bench.
Design an Outdoor Living Space You Want to Be In
Having an outdoor living area you don't care to use is a wasted opportunity. Instead, spice up your home by designing a space you actually want to be in and enjoy that space with your friends and family!