Want to bring more light into your home while improving your curb appeal? With more and more people moving to Arizona, it's an excellent time to invest in your home's exterior. With Bighorn Iron Doors, you can save on steel French doors that future home buyers will love as much as you do.
The Advantages of Steel French Doors
There's so much to love about steel French doors. Whether you purchase them with or without sidelights, they'll bring so much natural light into your home. They can make your interior feel more spacious and create a closer connection to the outdoors.
Steel French doors also have a timelessly elegant look, and they're as sturdy as they are beautiful. The use of steel and high-quality low-e and sandblast glass ensures your door will last for decades. They're a reliable investment into your home — homebuyers love a welcoming and updated entranceway!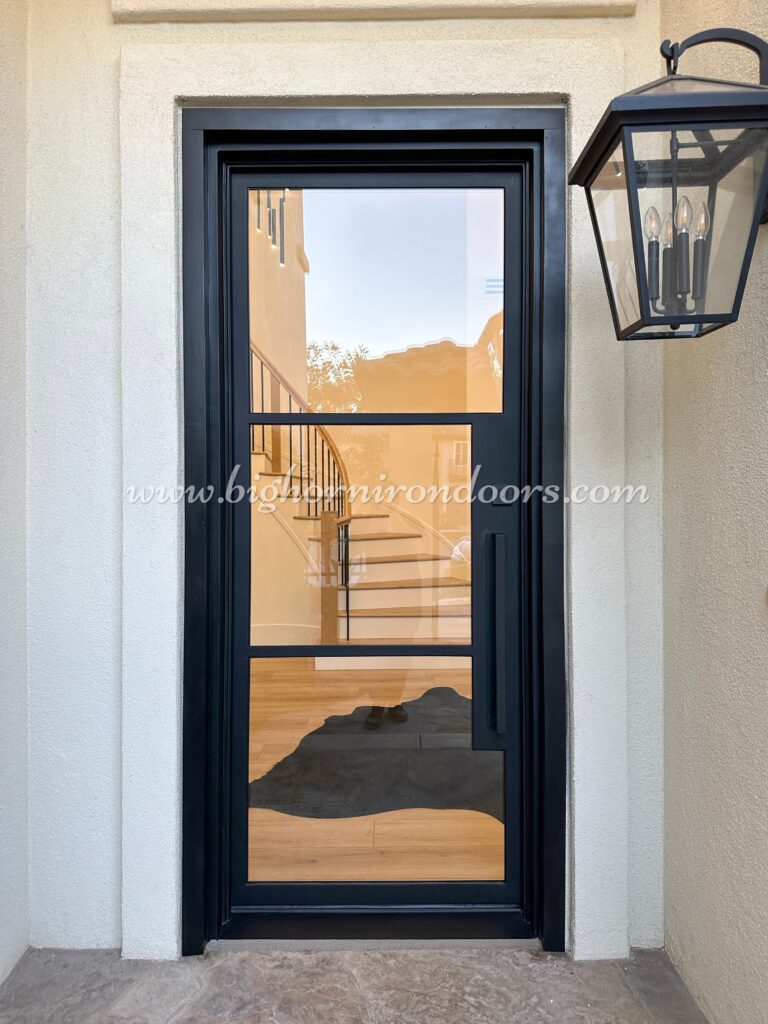 (Image from Bighorn Iron Doors)
Browse Our Top Doors Under $3,000
Here's a quick look at some of our top steel French doors under $3,000.
1. Peace 8 Light Single Entry – $1,580
The Peace 8 Light is a single entry door that just exudes charm. The square top and eight panes of energy-efficient low-e clear glass give the door a whimsical vibe. It's an excellent choice for your main entranceway or to lead into your backyard or patio. Its flat black color gives it so much versatility — it's a great fit for almost any home.
2. Akron Black Single Entry – $1,560
The Akron French door has a Modern style with an Art Deco twist. Its asymmetry and long handle make it more eye-catching than your typical door. Still, it's modern and contemporary enough to blend with most home aesthetics. One of its best features is its sandblast glass, which offers the perfect balance between transparency and privacy.
3. Berry Black Single Entry – $1,560
The Berry single entry door is unique because it's mostly one large pane of clear glass. This door is probably the most versatile on this list with its beautiful glass and simple black frame. If you want a French door primarily for natural light, you'll love the Berry door. It's a sleek, modern, and nice addition to your home.
4. 3 Pane French Door Single Entry – $1,600
Our 3 pane French door is another great choice that's well under $3,000. It has three large panes of clear glass, divided by its black steel frame. It's very charming, contemporary, and a safe choice to upgrade any entranceway.
5. 6 Pane Black Double Entry – $2,570
If you're shopping for double doors under $3,000, look no further than our 6 pane double entry doors. Each door has three panes of stunning clear glass that will have you feeling closer to the great outdoors. Being double-entry doors, they have a grander and more sophisticated feel — all for just $2,570!
Why Choose Steel French Doors for an Arizona Home
So, are steel French doors worth it for Arizona homeowners? Absolutely! With our affordable French doors, you can enjoy all the benefits of steel French doors without the big price tag. Our steel French doors are fully equipped to handle Arizona's high temperatures and dry climate. With their strength, durability, and security, you count on your new door to protect you from the elements and intruders.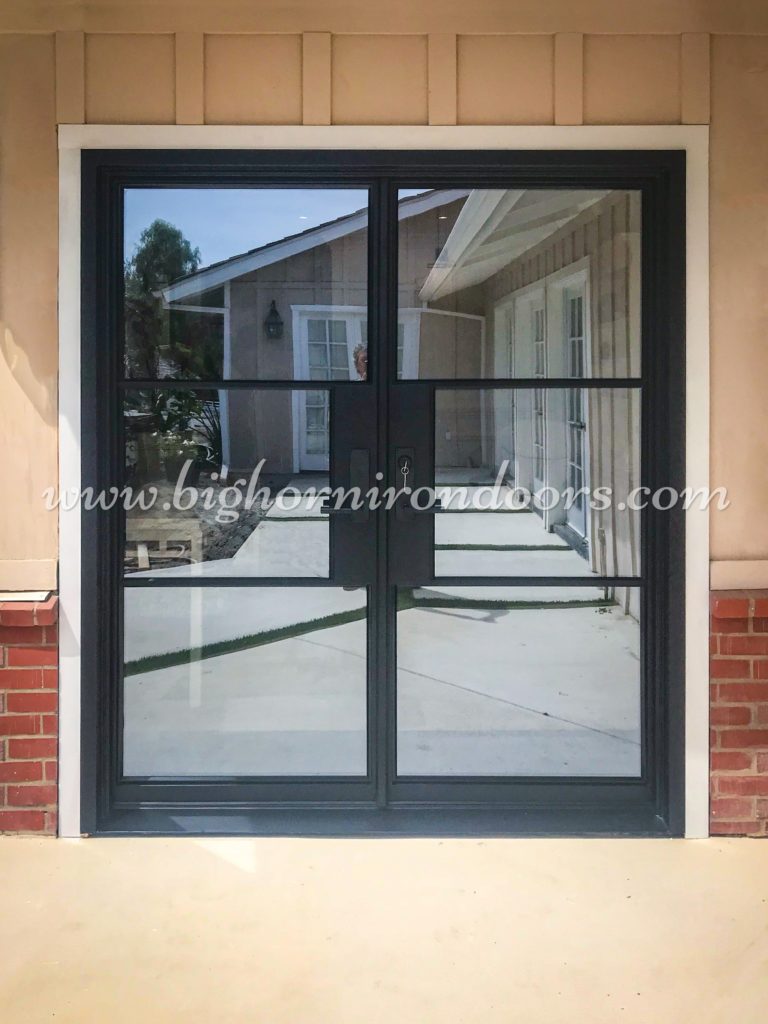 (Image from Bighorn Iron Doors)
Shop Steel Doors in Arizona With Bighorn Iron Doors
Browse our selection of steel French doors on sale to find the perfect fit for your Arizona home. If you're interested in other styles, please check out our gallery to view our many pocket doors, pivot doors, wrought iron doors, and more. We always have excellent sales going on, so you can find a quality door within your budget.
Have any questions about our steel French doors? Please feel free to contact our team by emailing sales@bighornirondoors.com, calling (833) 811-7199, or filling out our inquiry form. We hope to hear from you soon.