Wrought iron doors are the best of the best in terms of quality and style, especially when you buy from Bighorn Iron Doors. With our massive inventory, customization options, and regular sales, we can help you find the perfect wrought iron door for your home.
Of course, selecting a new front door isn't always easy. There are certain factors you should consider to ensure the door is the right choice for you, your home, and your budget. Let us help you make a decision you can feel excited and confident about!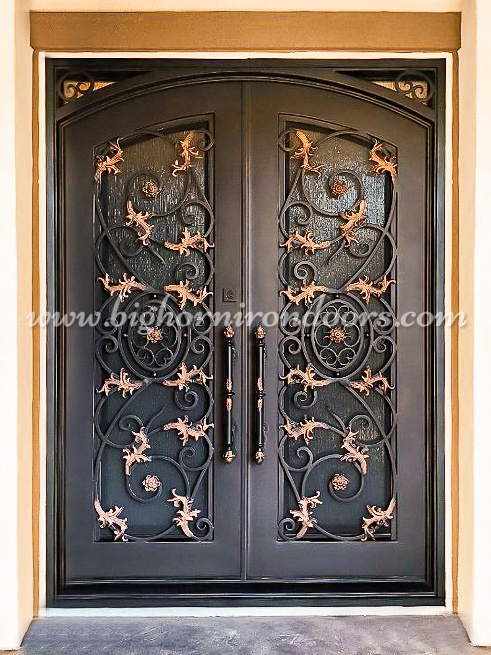 (Image from Bighorn Iron Doors)
How to Select the Best Door for Your Home
A front door is a big purchase. You don't want to spend thousands on a door only to dislike it once it's finally installed. To make the correct choice, there are some factors you should prioritize:
Budget. Wrought iron doors are an investment and tend to cost more than other door types. If you're trying to save money, take advantage of the 60% off sales regularly offered on our website!
Aesthetic. Our iron doors come in a variety of styles, including modern, Mediterranean, Spanish, and more.
Size. You should never order a door without first measuring your doorway. With door sizes ranging from 32 X 81 to 180 X 96, we're certain we can accommodate your doorway, no matter how narrow or wide.
Color. The color of your door should complement your home's exterior, not clash.
Weather. Not all doors are built for all climates. Our wrought iron doors, however, can handle harsh weather conditions and both dry and humid areas.
Material. There are other door types worth considering, like fiberglass and wood. However, your front door is a fantastic place to incorporate wrought iron, as it's sturdy, long-lasting, secure, and versatile.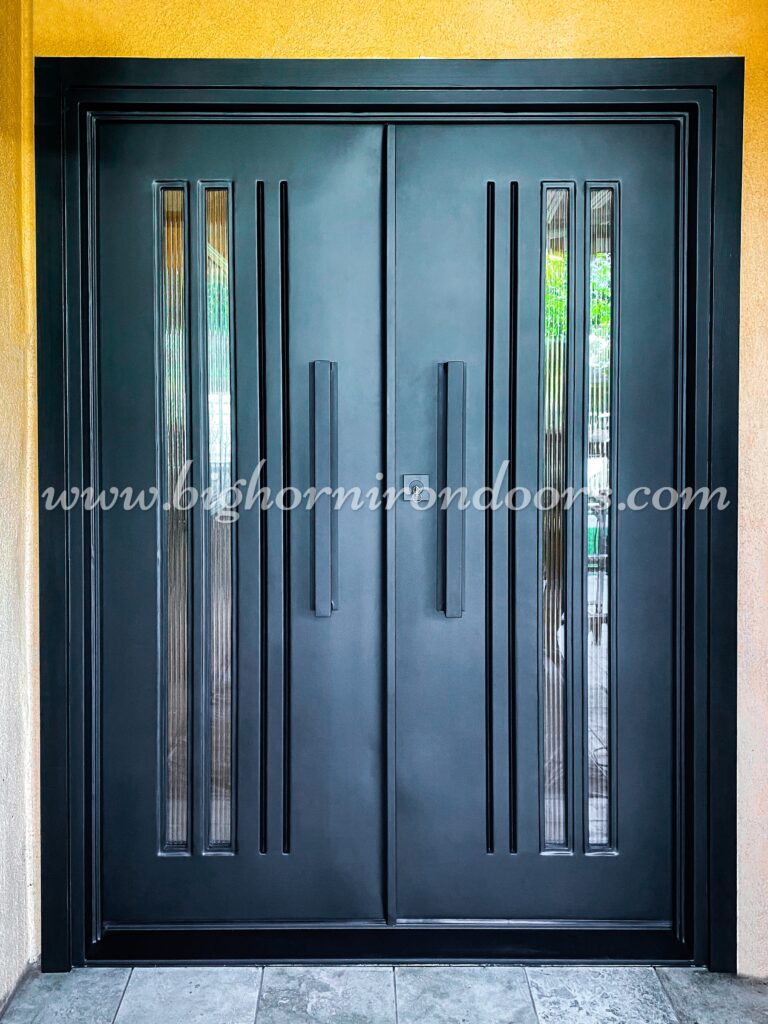 (Image from Bighorn Iron Doors)
Use Our Virtual Try-On Tool
Having trouble determining what doors would look best with your home's aesthetic or color palette? Our virtual try-on tool could help you make a more informed and confident decision. You upload a photo of your home and then select the doors you're interested in. The tool will then give you an idea of how your home would look with each door. It's that simple!
Take Advantage of Our Customization Options
Order a custom iron door online from us, and you'll get a one-of-a-kind, perfectly tailored door for your entranceway. Crafted from the best materials by skilled artisans, your custom door will complement your home's architecture and last you for decades to come.
We offer a variety of customization options to ensure you get the door of your dreams. Our customization options include the color, size, glass type, swing direction, and more. All that said, you may also find what you're looking for in our inventory of pre-made doors. Here are the prices of some of our most popular and affordable iron doors online: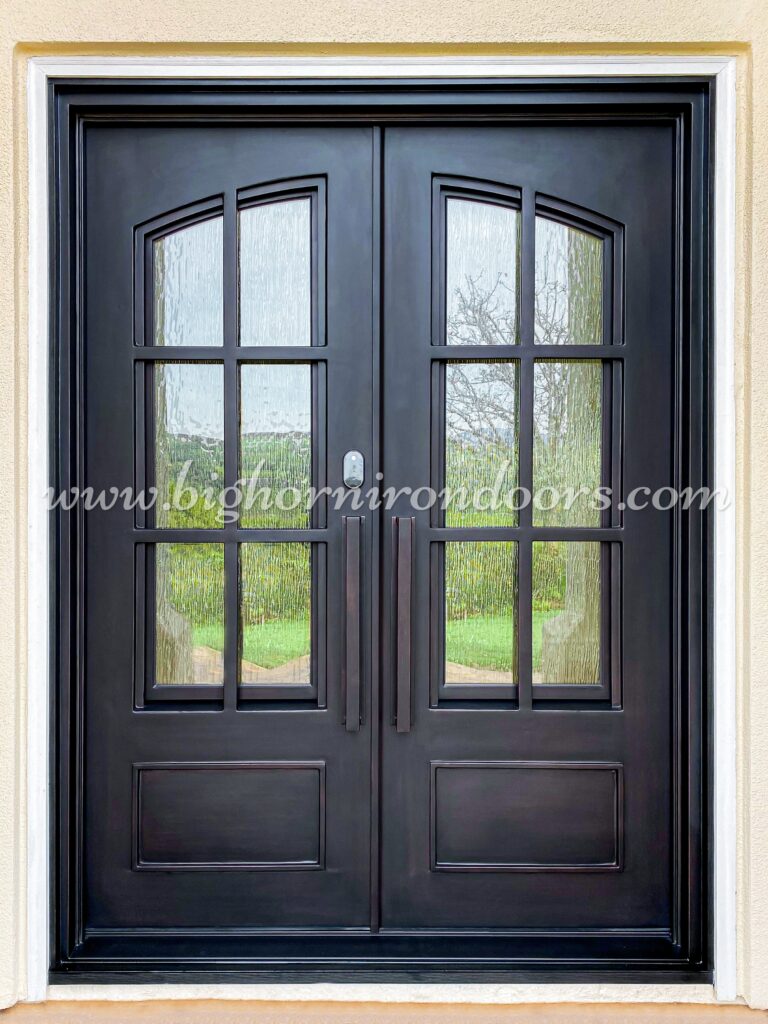 (Image from Bighorn Iron Doors)
Order a Custom Iron Door Online
Shop wrought iron doors in Florida, Texas, Louisiana, Arizona, and beyond with Bighorn Iron Doors. As the largest distributor of iron doors in the nation, we offer an inventory and customization options you can't find anywhere else. If you'd like to view our iron doors, steel French doors, pivot doors, pocket doors, and more, check out our gallery.
Interested in our custom wrought iron doors? Give us the height and width (if you have it) of your ideal door, and we can give you a free quote. If you have any questions about our products, shipping, or anything else, please get in touch. To contact us, you can email sales@bighornirondoors.com, call (833) 811-7199, or fill out our inquiry form. Our team would be happy to help you.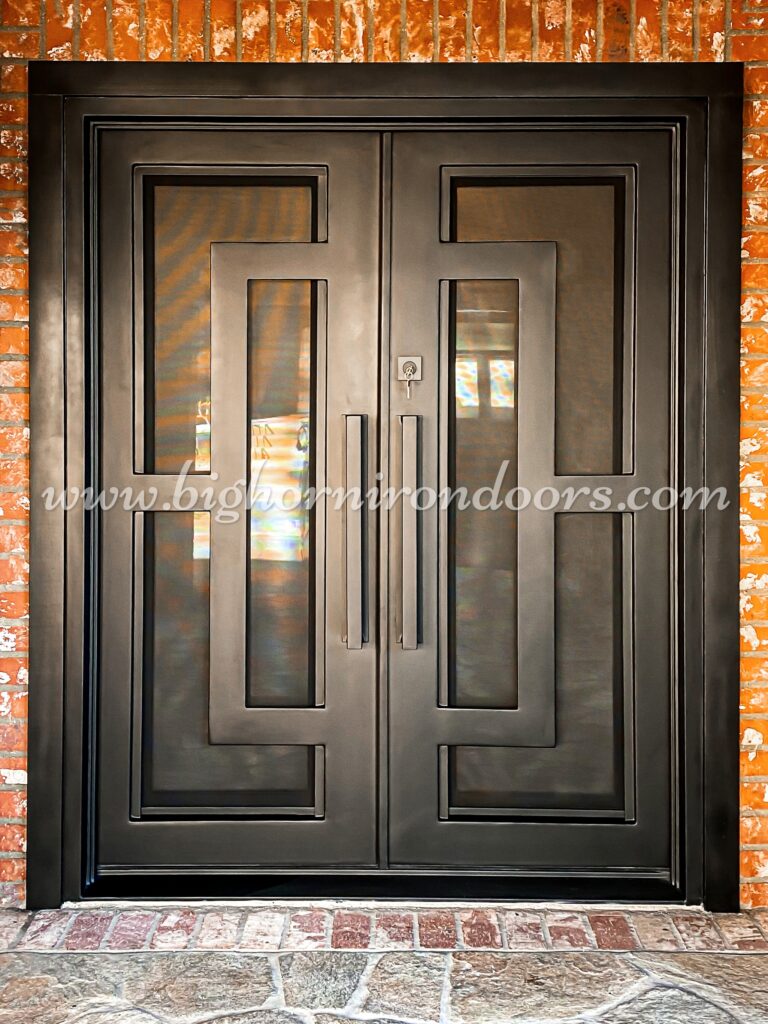 (Image from Bighorn Iron Doors)