"How can I make my entryway look better?" The answer lies in making simple yet effective changes and upgrades. With the right decorations and improvements, you can beautify your entrance and increase the value of your El Paso home. The El Paso housing market is a bit competitive right now — ensuring your home has a unique and welcoming exterior can make a huge difference to buyers.
1. Incorporate Natural Elements
Natural elements can add some gorgeous colors and textures to your entranceway. If you're working with a tighter budget, you could buy some potted plants, a wreath, or some lush flowers to give your entrance a beautiful fairytale vibe. Features like lattice panels or arches with climbing vines can also elevate your entranceway and have a calming effect on you and your guests.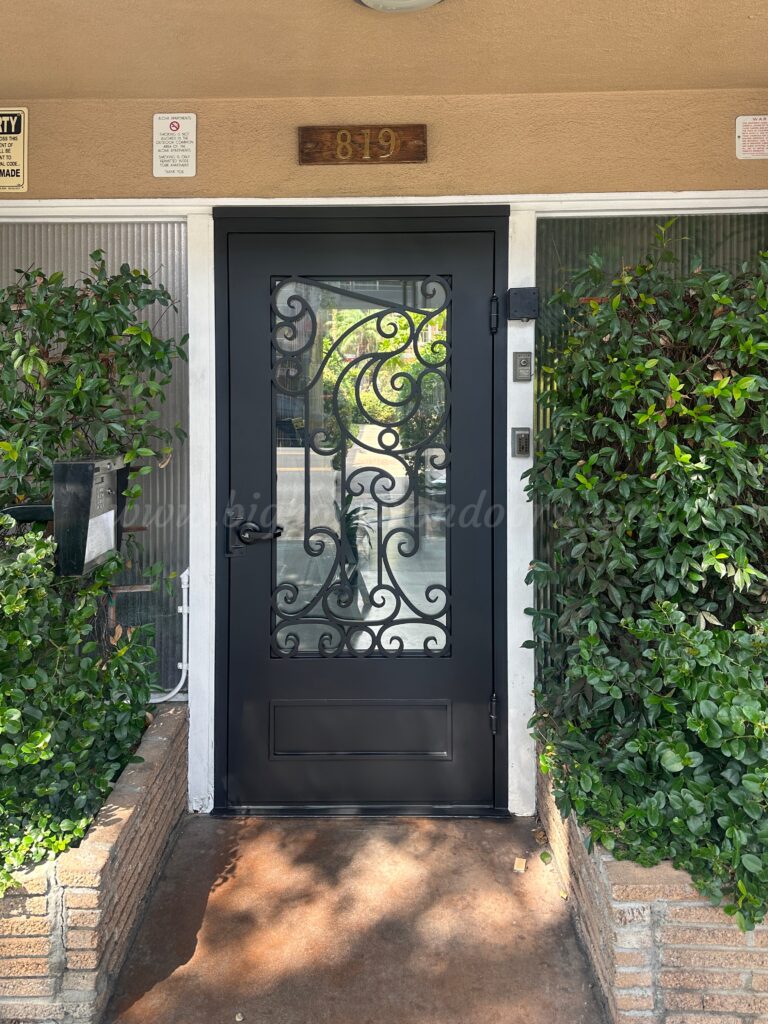 (Image from Bighorn Iron Doors)
2. Have a Well-Maintained Path
A well-maintained and clearly marked path will make your entranceway seem much more grand and elegant. If you already have a walkway, consider having it power-washed to clear any dirt or debris. If you don't have a walkway but are interested in one, you could hire professionals or go the DIY route.
3. Add Fun and Functional Accessories
An easy way to make over your entranceway is by adding accessories and decorations. These pieces can be both attractive and functional, like a cute welcome mat, a small bench, a rocking chair, or lighting fixtures. You can also ensure your entranceway is eye-catching year-round by incorporating seasonal decorations every few months!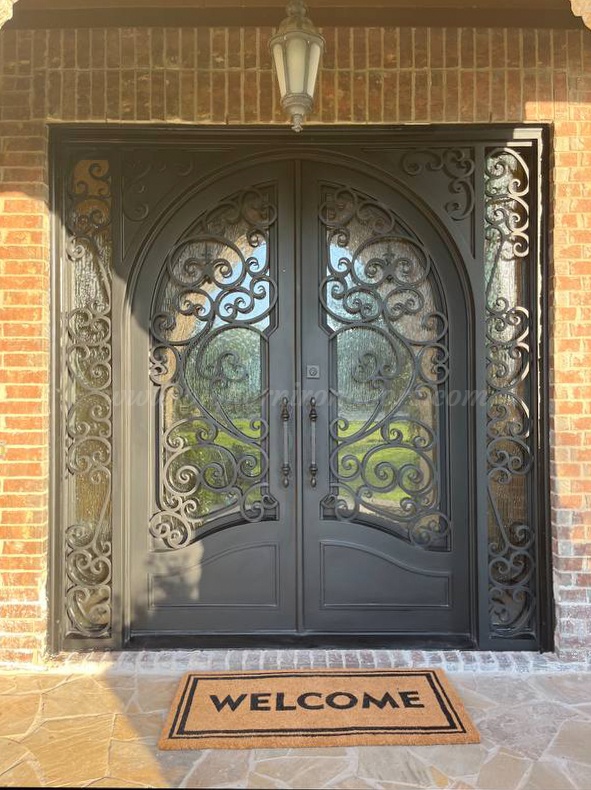 (Image from Bighorn Iron Doors)
4. Create a Consistent Style
It doesn't matter if you prefer a super modern style, an out-of-the-box Art Deco style, or a charming farmhouse style — what matters is that you're consistent. If your front door is Art Deco and all your decorations are rustic and farmhouse-style, for example, your entranceway could look unintentional and confusing. Try to choose one style and make your other decorating choices with that style in mind.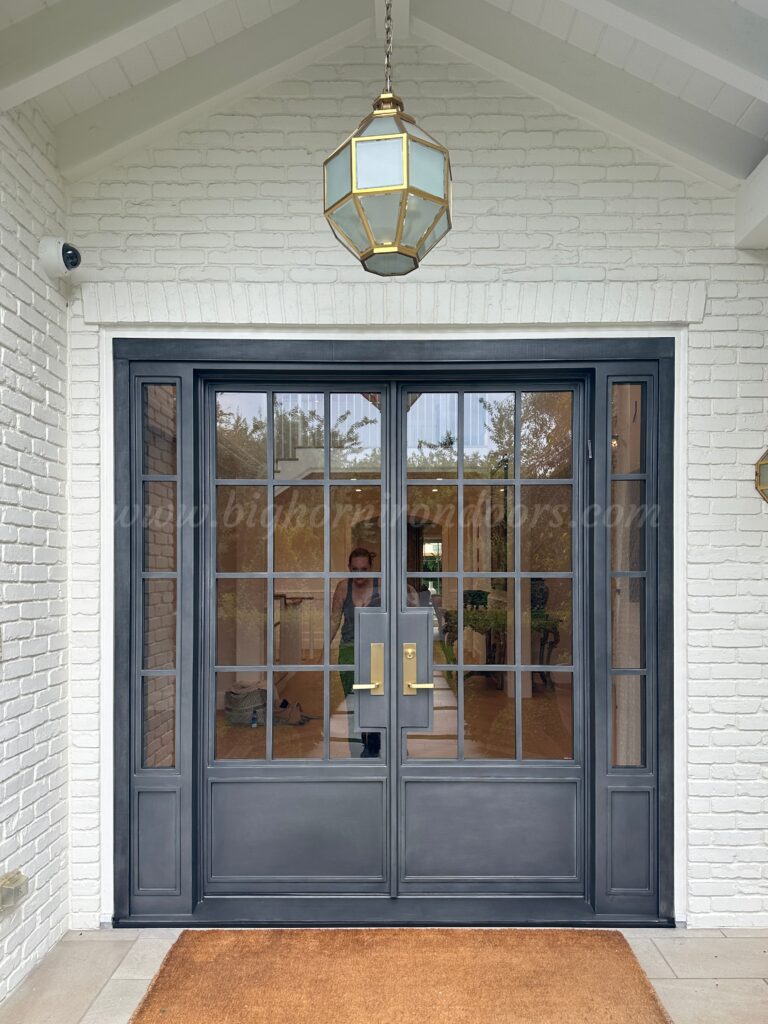 (Image from Bighorn Iron Doors)
5. Upgrade Your Front Door
Upgrading your front door is perhaps the most meaningful change you can make to your entranceway. The front door is the focal point of your home's exterior. A door that's in poor condition can reflect badly on your entire home, but a high-quality and visually appealing door can have the opposite effect.
Invest in a Stunning Wrought Iron Door
With Bighorn Iron Doors, you can invest in an excellent wrought iron door that's secure, durable, weather-resistant, and built to last for decades to come. Our selection of stunning doors is unmatched, with every style and design you could ever want.
With countless options under $2,000, we can confidently say we have lovely doors for every shopper. Browse our beautiful doors — and our handles and lock sets — to find the door of your dreams. Not sure how your chosen door will look with your current entranceway? Check out our convenient virtual try-on tool.
Shop for Quality Iron Doors in El Paso
Now that you know how to update your entranceway, it's time to start shopping with Bighorn Iron Doors. As the largest distributor of iron doors in the country, we're certain we'll have the perfect door for your El Paso home. We have a massive inventory of wrought iron doors, steel French doors, pocket doors, pivot doors, and other custom handcrafted pieces you can view in our gallery.
If you're interested in our customization service or have any questions at all, please don't hesitate to get in touch. You can reach out by emailing sales@bighornirondoors.com, calling (833) 811-7199, or filling out our online contact form.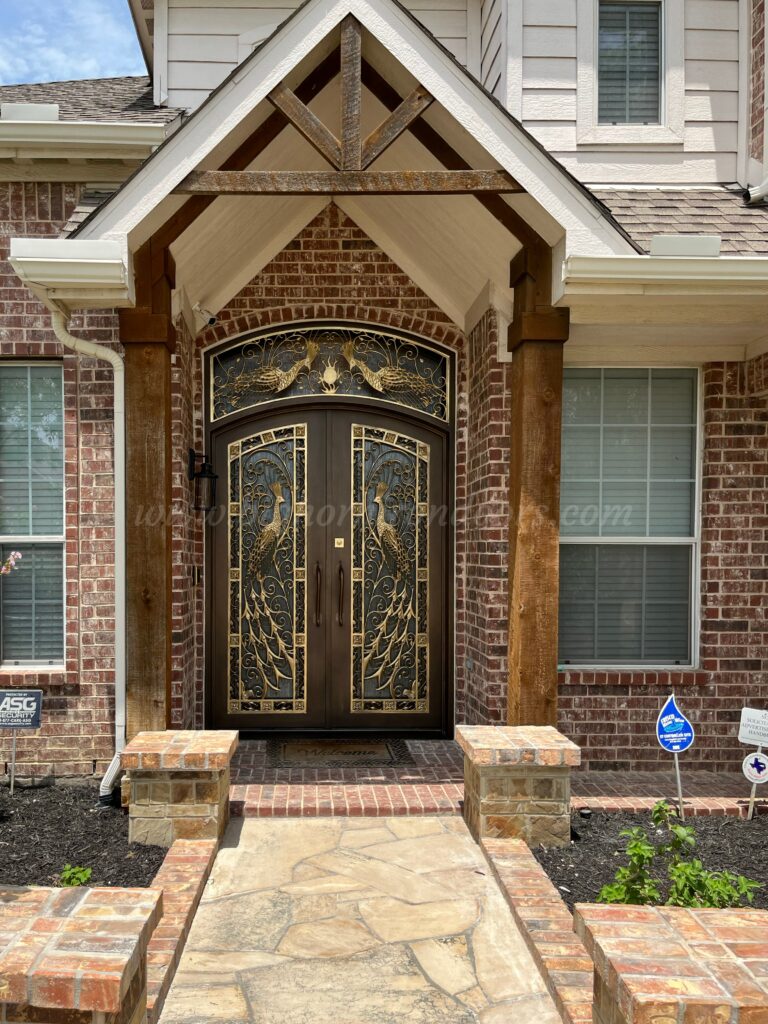 (Image from Bighorn Iron Doors)